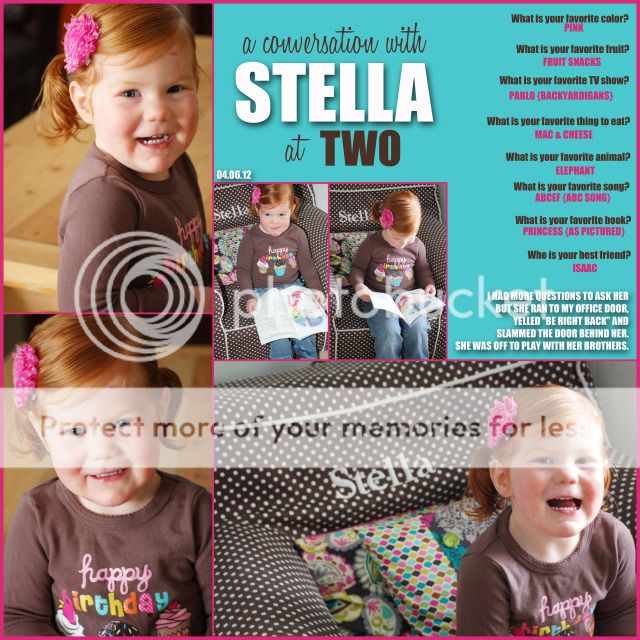 My sweet and sassy little Bean turns 2 today!
We were planning on a trip to the zoo because she loves animals,
but it's a freaking blizzard outside the windows right now, so we aren't braving that.
Guess what? It was a blizzard the day she was born too!
I'm over the snow, but I am not over this little girl.
She brings more joy into my life than I could ever imagine...
Somedays I tell myself I better stop kissing her every 10 minutes.
A few things I don't want to forget about her turning 2...
- She always thinks I'm "tittling" (tickling) her when I get her dressed. She giggles and puts her arms at her sides the whole time. She is super ticklish.
- Her latest obsession is "Daddy's Boo Ban" (daddy's blue van). She wants to ride in that dirty, old thing from sun-up to sun-down. I'm not sure why, besides that she really loves the driver.
- I know it's Easter time and hard-boiled eggs are everywhere, but this girl can eat a whole hard-boiled egg with every meal and snack any time of year. I think she's addicted to the "golden nugget of nutrition" (does that counteract all of the fruit snacks she eats?).
- James adores her. He follows her around and talks to her in baby talk. "Stellie, want a dolly?". When she cries he's the first one to run to her and tell her, "You okay, Stellie". I even caught him telling her, "You the sweetest thing, Stellie" (I think he's been listening to me).
- Her hair is getting so long- she can rock the braids, ponies and curly-do like a 5 year old.
- The tractor is her latest g0-t0 for outdoor activities. She's okay behind the wheel or being buckled next to one of her brothers for a crazy joy ride.
- She thinks that life is too fun for naps anymore. I still make her take them most days, but she knows when I take her in her room for an after-lunch diaper change that usually that means naptime...so the second I lay her down to change her diaper she smiles at me and over and over again says, "Play? I play? Play? I play?"...already trying to weasel her way out of a rest.
- She's always the first of any of my children to say "neat new" (thank you). It's sad that she has better manners than her older siblings.
- My favorite activity of the day is family scripture study. My boys take turns reading a few verses and then it's Stella's turn- Preston or I read a few words to her at a time and she repeats them- hearing a little one read the words from the scriptures is so funny and so sweet! I get teary-eyed almost every night because it's so tender and yet so hysterical!
Happy 2nd birthday, Stella!
You are TWO cute!