Hello, everyone! It's been a busy time around here. I'm studying up for my first Childbirth Class tomorrow, packing to leave on an 11 day trip tomorrow, and trying to keep up with all of the normal day to day stuff. I probably shouldn't even be updating my blog during Henry's nap (aka "primetime"), but I decided I needed one last post before we take off.
Yesterday, my sister-in-law and I went to the new Chipotle for FREE!!! The were having a preview day and it was super busy, but so worth it. Chipotle just tastes better in Utah, ya know? I've been waiting for this combination for years! The food and company were great, but it did end in tragedy....Henry left his much-beloved Cars (Lightning McQueen and Doc Hudson) on the patio of Chipotle, never to be found again. Doesn't seem like a big deal to you does it? Well, this kid is obsessed! He loves the movie, the actual Cars, and even the cheesy character sweatshirt his grandma sent him. I'm waiting for the next words out of his mouth to be "Hillbilly Hell". AHHH!
Anyways, we had to make a trip to SLC today to go out to lunch with an old friend, Jenny, and her sweet hubby and mom. Oh, and we can't forget to mention her 7 month old baby in utero. We had some yummy Rumbi Grill, and I gave her some of our much-loved Baseball Robeez. After lunch we headed over to Toys R Us to try and replace the lost Cars. Henry truly was lost without his best friends. We had SUCCESS! Target is always out of the darn things, but Toys R Us was stocked! We got Lightning McQueen (again), Doc Hudson (again), Mater and Sally. Henry immediately tried to open the packages they were in....he couldn't wait to get his hands on them.
He played with them the whole way home and then played with them some more!
Here he is happy to be reunited....
He zooms them across the couch...
one by one...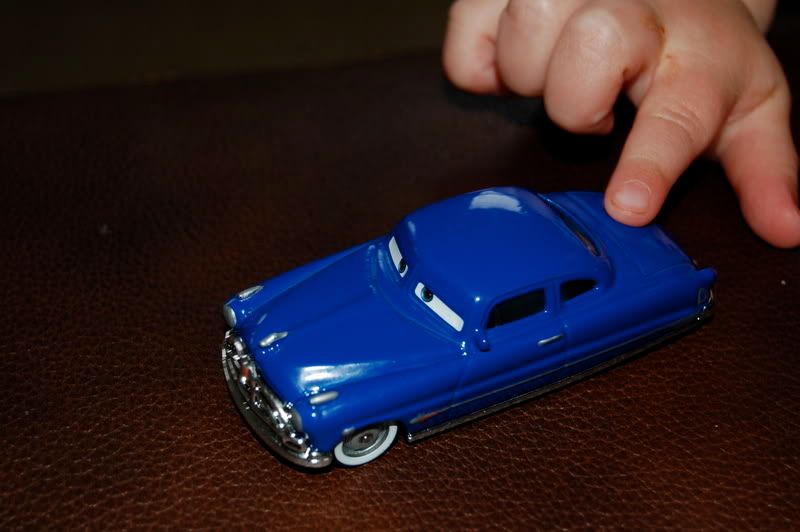 then lines them up in perfect rows (i wonder where he gets his analness from? ;) )....
and finally, wags his tongue in delight (that's a new trick!)....
We are so glad to have the Cars back. I say we because I will be flying on an airplane with him tomorrow for 3 hours alone. We'll be needing these little guys for entertainment. I'm sure the $6, spent again, will be very worth it in the end!
So, we're off to Kansas tomorrow to spend time with my sister, Keely, and her family, my sister, Angie, and her family, my sister, Tia, and my parents. I finally get to meet sweet little Jude!
Here's the announcement I made him for my sister to send out....
So long for a few days! I will update in Oz!