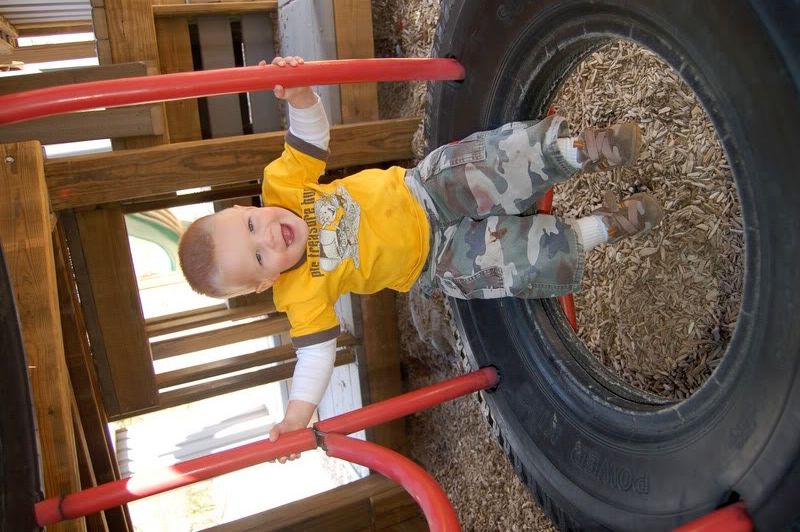 1- We got a babysitter on Friday night and went out to dinner with our friends! Not only was the conversation and food good, but Henry did GREAT with a completely new person watching him! We were impressed!
2- I got to go scrapbooking from 10am-11pm on Saturday with 2 of my good friends at a scrapbook store in SLC. We had so much fun chatting, scrapbooking, and eating out. I even got 18 pages done (nothing compared to Pam's 100...ughh)! It was a nice break from mommy duty!
3- My new nephew, Jude, got his personalized shirt that I sent him in the mail. It's so cute....a bit big for now, but the green looks so good on him! He's adorable and I can't wait to meet him THIS Saturday!!!
4- I had another preggo sign up for my childbirth classes and they start THIS week! I'm excited to start teaching!
5- I got a good laugh just before Henry's nap when he ran over to the drawer in the kitchen, pulled out the oven mitt, put the mitt on his hand (correctly, I must add), and proceeded to open the oven. He must be watching his momma! No one can say I never cook, I guess!
6- It's so Springy outside today. It's almost 70 and beautiful!
7- Our trees are blooming in our yard. It's fun to see what pops up everyday, since we have no idea what our previous owners planted. They did a great job!
8- Henry and I went to Costco today and shared a hot dog ("one man's trash is another man's treasure").
9- Chipotle opens just down the way in 4 days! The countdown is on!!! I can't wait to be dippin' my chips in a burrito bol!
10- I took Henry to the park today to enjoy the sun, swing, and slide (pics below)!