Hello, all! Just wanted to report that we are back home. California was great....the weather was beautiful! We came home to 40 degrees and rainy....blah!!!! We even decided to brave the weather and went to a Salt Lake Bees baseball game last night. It was fun but cold! I want Spring weather back again!
Nothing too excited going on here. I am starting to teach my first round of Natural Childbirth Classes next week, so I am frantically trying to feel prepared. It's been a good 19 months since I last birthed a baby (as you all know), so I need a refresher course in the process. I'm so excited to finally get this underway. I truly love talking about pregnancy, childbirth, and babies, and to get paid doing it will be ideal. I just hope the fever catches and people will keep signing up. It's honestly the best thing I ever did. I actually took the classes because my obstetrician warned me that I may not be able to get an epidural due to a medication that I was taking during pregnancy. Little did I know that I would attend the classes and realize that I really did want a natural birth. I left the classes feeling empowered, informed, and prepared (as prepared as you can be with your 1st one). It was obviously a great experience for me because here I sit preparing to teach my first class.
Now onto more interesting things...Henry got a surprise in the mail today.....a cute Backyardigans t-shirt. It's Pablo, his favorite little friend from TV. I snapped this shot of him in it and thought I would share...don't ya love that tonguey grin?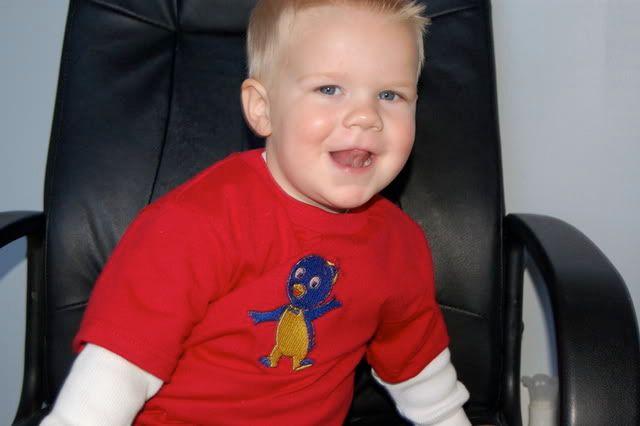 I've got Chili brewing in the Crockpot that's begging to be stirred and clean laundry in piles covering my basement, so I'm off to get a few things done! Traveling is great, but recovering from it is not!