My dad got a free TMX Elmo at work. Henry LOVED the box it came in....whenever you open the flap it says, "No peeking". He played and played with the box for a few days, carrying it around and lifting the flap up and down with a big grin on his face, then Grandma let us open it up and get Elmo out. Henry changed moods real fast.
He didn't mind so much just looking at Elmo when he wasn't talking or moving around....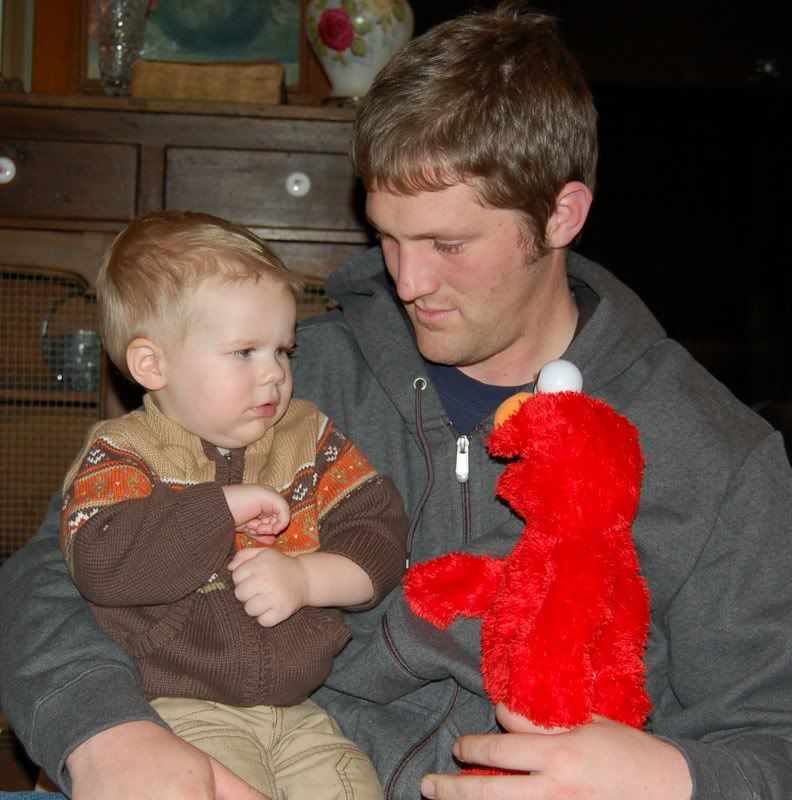 But once Elmo gets tickled he does this psycho combination of laughing, banging his head on the ground, falling over, and getting back up. Henry DOES NOT like this part....
Honestly, I don't blame the kid. This toy is quite annoying and overly bizarre, but I was still suprised to see him so afraid of it. He can't get enough of cartoon characters on TV, but when he sees them in real life, he shakes with terror. We've already had a few run-ins with Minnie Mouse, an alien in New York, Santa, and Rudolph this year. I'm hoping he outgrows it by the time he's 2 or else our October trip to Disneyworld may be filled with crying fits of fear.