Our little ones love their loveys.
They have slept with them every night since they were born.
Henry and Pokey (8.25.05)
James and Zippies (2.11.08)
Stella and Winks (4.6.10)
We've had many moments of panic when we can't find Pokey, Zips, or Winks.
As in, they, nor I, could sleep out of fear that it was lost for good.
We've been lucky and always have been able to find them, somewhere, somehow.
Once I found Pokey at midnight on top of our TV hanging on the wall after searching for hours.
Another time we got a frantic call from the babysitter that Zips was missing and James wouldn't go to sleep.
We rushed home and found him in the trunk of Tow Mater out in the garage.
I decided that one day our luck just may run out,
and they, and I, will be so, so sad to not have their loveys to comfort them.
So, I hopped on ebay the other night (of course 2 out of 3 of their pluffies are retired)
and purchased a spare for each of them.
Can you see how excited they are?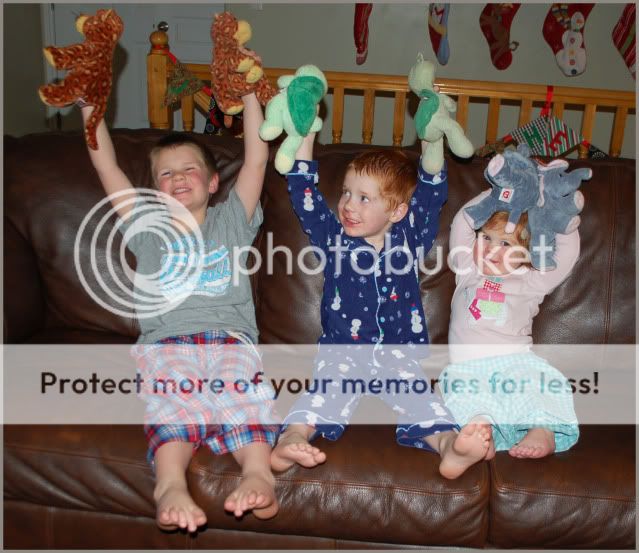 I told them they could all sleep with both for tonight
but then the spare will be put high in their closets in boxes for when our luck runs out.
The top picture makes me laugh.
Can you see how much Zips is loved? He's missing eyes and has holes.
The new ones are so plump from never being washed.
Ours get washed weekly with the laundry. They are often adorned with snot and saliva.
I hope their loveys (and spares) can stick around for years to come.
They are sentimental to all of us Ponds
and we don't want to live without them!