Our Halloween night 2011 will be hard to beat.
It started off with 60 degree weather and a little bit of sunshine as we headed out the door to trick or treat.
The kids looked cute...
even though Stella wouldn't pose in her chicken attire.
We had a party with cousins...
Stella and Afton rode happily in the wagon...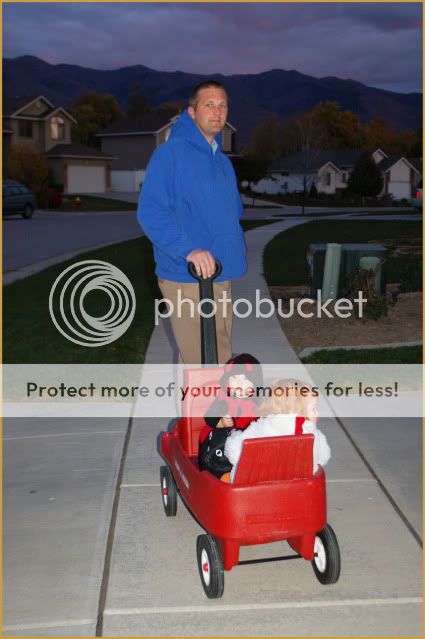 Henry & James ran from door to door...
Lots of candy was to be had and lots of friends in costume were to be seen...
Our kids are at great ages...the boys can run together and Stella can just cruise in the wagon.
James felt bad that Stella wasn't trick or treating, so he would bring her back almost every single one of his treats to eat right away, or he would hold it up for me to open for himself.
He made it home with very little candy in his bag, but that's okay by me.
Our favorite find in the neighborhood every Halloween is homemade donuts...
Stella did get out at the last house, The Hinmans, to do the real trick or treating she is capable of...
She grabbed a piece of candy, threw it back and tried to run away.
Then turned and took 2 and ran off the porch.
Thank you to Grandma and Grandpa for staying at our house and passing out candy in true cowboy fashion!
Now it's officially November and the 60's are gone.
It snowed today! Bah humbug...I'm not ready for that yet!
The kids asked Preston last night while he was putting them to bed how many days it would be until Christmas. They woke up this morning telling me "one month until Thanksgiving!".
It's always a countdown to something at our house!