On Thursday morning we loaded ourselves on to the Breck Connect Gondola to hitch a ride to the Peak 8 fun park.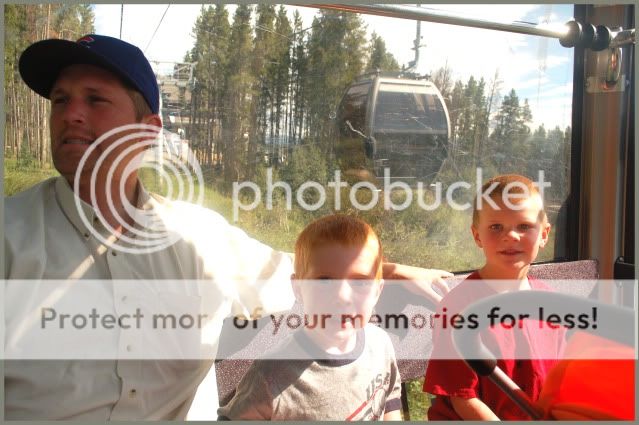 What a pretty & relaxing ride!
Stella enjoyed the view from her stroller.
We made it to the top, and the kids couldn't wait to have some fun!
They started off on the bungee trampoline. Henry had a permanent smile on his face.
He even attempted and succeeded at doing some backflips.
Knowing James and his personality, I thought he'd be scared, but he proved me wrong.
He not only loved it, but the guy kept asking him if he wanted to go higher & he said yes every time! He was, what appeared to be, in the clouds.
Stella still wasn't used to her cousins, especially Mason...
Next up was pony rides with the cousins.
Stella was whining because you had to be 3 to ride the ponies, but she couldn't read the sign.
The boys loved the alpine slides the most, so Daddy took turns riding with them.
The boys bought all day passes and stayed all day having fun.
I was there most of the morning and couldn't pass up a ride on the Golden Coaster.
The kids also enjoyed a bounce house, panning for gold, a maze and rock climbing.
I think they got their fill of fun for the day!