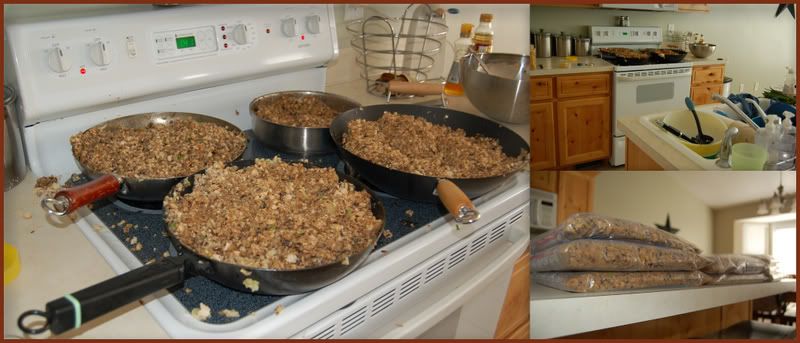 It's that time of the month again to make copious amounts of one meal for
Girlfriend's Cooking Club
. Yesterday I cooked the day away making
PF Chang's Chicken Lettuce Wraps
. They are quite delicious I must admit. I hope the other girlfriends agree. You can find some of their cooking stories
here
and
here
. The part of the day that impressed me the most was the way my kitchen looked towards the end. You guys should be so proud! It featured all of the characteristics I so despise....dishes in the sink, small pieces of food jammed between the stove and the countertop, teensy chunks of meat lying on the ground to step on and smear, and smells that would make most pregnant woman barf. If you want a trip to Asia anytime soon come visit my house! Now the neat freak in me is off to clean up that smell. I paid a visit to B&B for some of their new, refreshing
Twisted Peppermint
. I'm hoping it's strong enough to conquer Asia!
Here's the recipe for those interested...
PF Chang's Chicken Lettuce Wraps
Ingredients:
8 dried shitake mushrooms
1 t cornstarch
2 t dry sherry
2 t water
salt and pepper
1 ½ lbs. boneless, skinless chicken breasts, minced
5 T oil
1 t fresh minced ginger
2 cloves garlic, minced
2 green onions, minced
8 oz can bamboo shoots, minced
8 oz can water chestnuts, minced
Cooking Sauce:
1 T hoisin sauce
1 T soy sauce
1 T dry sherry
2 T oyster sauce
2 T water
1 t sesame oil
1 t sugar
2 t cornstarch
Lettuce
Special Sauce:
¼ C sugar
½ C water
2 T soy sauce
2 T rice wine vinegar
2 T ketchup
1 T lemon juice
1/8 t sesame oil
1 T hot mustard
2 t water
2 t red chili garlic paste
Directions:
Cover mushrooms with boiling water, let stand 30 minutes, then drain. Mince mushrooms. Set aside.
Mix all ingredients for cooking sauce in a bowl, and set aside.
In medium bowl, combine cornstarch, sherry, water, soy sauce, salt, pepper and chicken. Stir to coat chicken thoroughly. Stir in 1 t oil and let sit 15 minutes to marinate.
Heat wok or large skillet over medium high heat. When pan begins to smoke slightly add 3 T oil. Then add chicken and stir fry for 3-4 minutes. Set aside.
Add 2 T oil to the pan. Add ginger, garlic and green onion. Stir fry about a minute or so. Add mushrooms, bamboo shoots, and water chestnuts; stir fry an additional 2 minutes.
Return chicken to pan. Add mixed cooking sauce to pan. Cook until thickened and hot. Prepare special sauce by mixing all ingredients together.
Spoon chicken mixture into lettuce leaf. Drizzle with special sauce.
Enjoy!