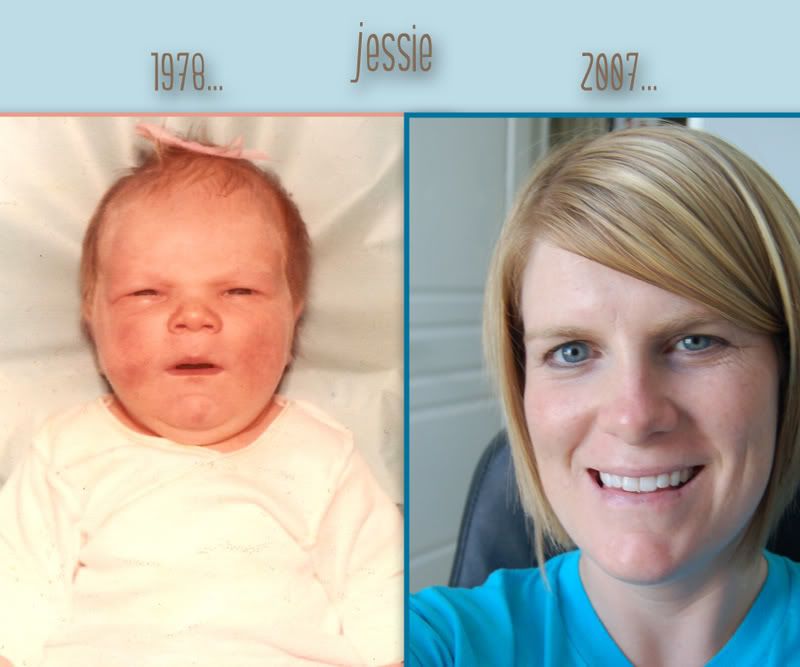 Today's the day....I'm officially 29 and feeling old. How did I get to almost 30 so quickly? I must admit that 29 is looking much better than 0 when you compare the pictures above. I must have had quite the birth experience considering the look on my face.
My dear hubby treated me to dinner at
Rodizio Grill
on Saturday...if you haven't been there, it's a must! Their bacon wrapped turkey is one of the best things I've ever feasted upon! We sat and chatted it up since Henry was at home snoozing with his Aunt Janelle on patrol (Thanks, Janelle!). It's amazing how much more food you can eat without a toddler present and how much more meaningful a conversation can be. I love, love, love my little man, but breaks are good! Some of my old Aggie roomies (like
this one
) and
one of the best people in the world
treated me to breakfast at
The Original Pancake House
this morning. It's another good one if you haven't been there. They have gazillions of pancake creations and some yummy omelettes. It was Biscuits and Gravy for me though.....I'm a sauce freak and can't escape that homey, hearty feeling when I eat them. Then we're off tonight on a little date with some
other good ones
. It's been a good birthday. The best kinds are food, friends and family. No gifts needed.
Now, just in case I haven't revealed enough about myself on this blog, here's a little more info. I got tagged by Kensie.
5 Things I was doing 10 years ago:
1 - Graduating from Hillcrest High School
2 - Moving to Logan to study Elementary Ed at USU
3 - Preparing to send my hubby (boyfriend then) off on a mission
4 - Attempting to teach my roommates a lesson or two on keeping a clean house (just some of them)
5 - Driving a Jeep Wrangler with the top off (oh, how times have changed!)
5 Things on my To-Do List Today:
1 - Celebrating!
2 - Having "preschool" at my house with 3 cute boys
3 - Preparing for my scouts activity tomorrow
4 - Taking a nap (I didn't get in my usual 10 last night)
5 - Doing laundry
5 Songs I know the Lyrics To:
1 - "Parents just don't understand" by Will Smith (I guess that song had a lot of meaning to me as a child)
2 - "My Wish" by Rascall Flatts (because it's one of my favorites)
3 - "Signs" by Tesla (should I even admit that?)
4 - "I am a Child of God" (sung nightly to Henry)
5 - "That's what Friends are for" by Dionne Warwick (I used to sing this with my friends in elementary school...remember, Katie?)
5 Things I Would Do if I Had One Million Dollars:
1 - Tithe it.
2 - Pay off house.
3 - Travel.
4 - Get weekly massages.
5 - Always have fresh flowers on my table.
5 Things I Will Never Wear Again:
1 - 2 socks on each foot.
2 - Pegged pants.
3 - BIG hair.
4 - a major zit face (PLEASE!)
5 - Swatch watches.
5 Favorite Toys:
1 - my Macbook Pro.
2 - my Nikon D50.
3 - my cell phone (although I could use a new one).
4 - DVR (that I currently don't have but so desparately need!)
5 - my Chi flat iron.
5 People I'm Tagging:
1 - Keely
2 - Pam
3 - Jeni
4 - Becky
5 - Katie