Saturday was our last day with my sister Keely and her fam. We actually laid pretty low most of the morning....resting, playing, cleaning up, and the Says packing. Then we hit Cafe Rio one last time...Keely is addicted now as well...maybe they'll make it to Kansas one day. After eating we took the kiddos to the park, only to suffer in some serious heat! We didn't stay long. After naps and preparing at home we went back up Big Cottonwood Canyon for campfire dinners at Moss Ledge.
This was the spot...it's always been my favorite campfire place...lots of trees and rocks!
The tin foil dinners were delicious!
And the smores were even better...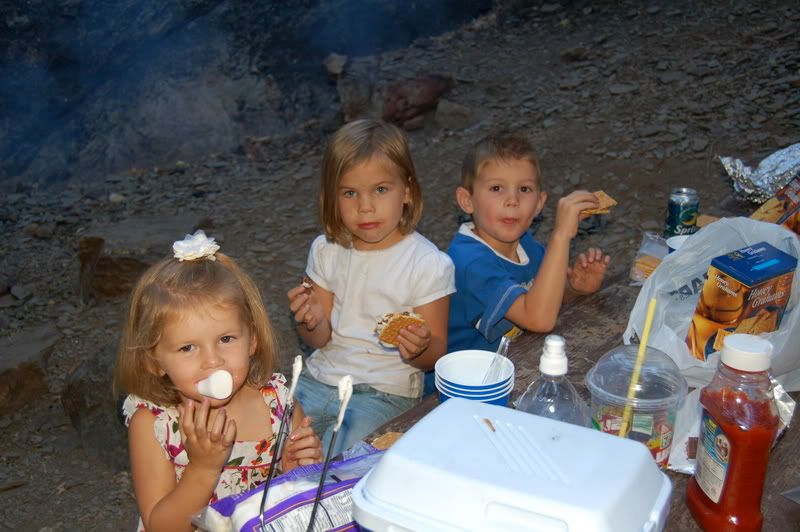 Preston enjoyed manning the fire. At one point he said, "I just like to cook Smores, not eat them." What? Who doesn't like Smores? He did manage to eat plenty of just plain old chocolate though.
All of the kids had a ball climbing the rocks to the lookout and the rocks over the stream. Keely hyperventilated at one point because Xander and Roe had climbed to the top themselves and were sitting on an overhang! They didn't seem to notice or care.
Can you tell that Henry had a good time?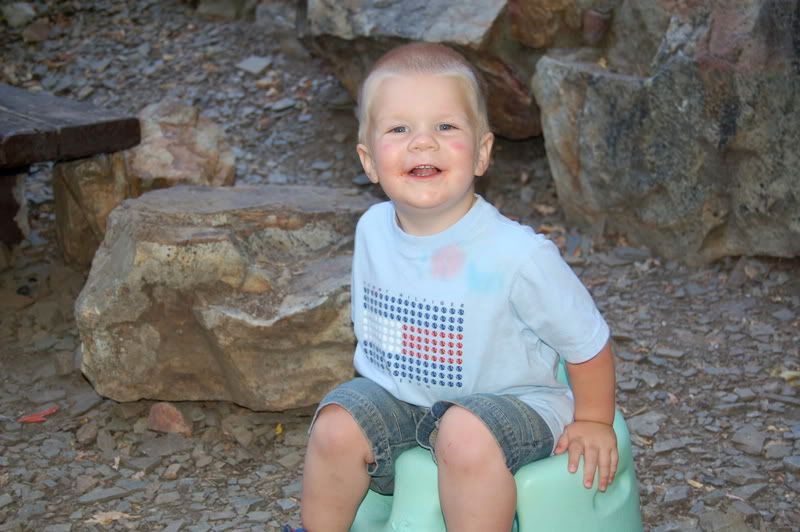 Too bad his mom forgot the diaper bag (I NEVER forget stuff like that!!!), and he pooped twice. The first time Aunt Keely came to the rescue with a small swim diaper and wipes. But the second time he just had to ride home in it. I figured it matched the rest of his body....dirty, stinky, and ready for a bath!
Bye, Says! We loved having you! Come back soon! Henry found "Roe Roe"'s hair elastic today and tried to hunt her down. He misses you guys already!