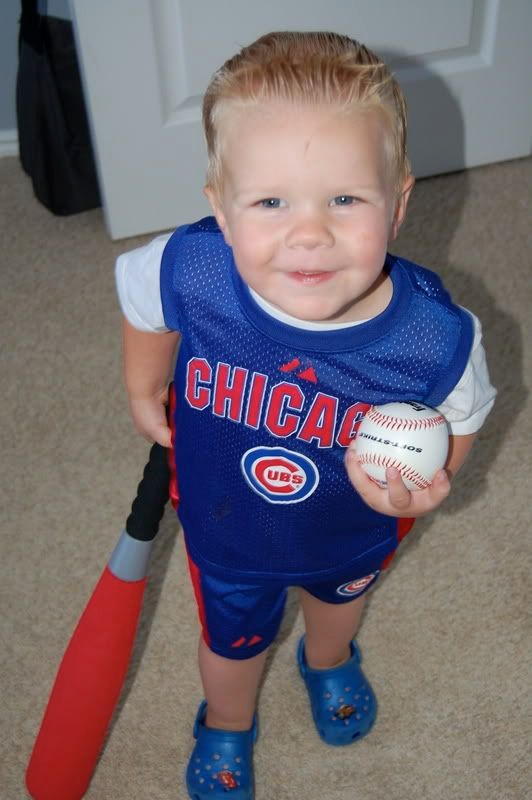 Henry has been obsessed with baseball lately. And no, we didn't force him into it, but we are very happy about it. He has always loved throwing balls and swinging bats, but on our trip I bought him the movie
"Everyone's Hero"
. It is a cute little movie about Babe Ruth and his bat named Darlin'. Well, Henry now constantly asks for "ball"....that's what he calls the movie. We have now gone from Cars to Finding Nemo to "Ball" (Everyone's Hero). He prefers to watch it daily. It's paying off in some regards. He's got some of the moves down...he still dances a bit while throwing and hitting. But, I really think he's learning a few skills from the show. Upon seeing him launch the ball directly to his target, most people comment, "he's got an arm!".
Every morning when I walk into his room he now demands "bat" and points to his small wooden bat that we engraved for him in Cooperstown at the Baseball Hall of Fame. I would rather him not play with a hard bat, but it is just his size. I hand over the bat, and he walks to the office, climbs up on the desk and retrieves Preston's foul ball that he caught from an Angels baseball game. Yes, he does have a soft, mini play ball and bat, but he much prefers the real stuff. Afterall, he's on his way to the Majors, he better get going on the real deal. (The wooden bad and real baseball are not pictured, in fear of him taking a whack at the camera!)
Many people have asked us along the way if we'd ever use the nickname "Hank" for Henry. I don't like it much, but I'm starting to wonder if he's turning into a little Hank Aaron right before our eyes!