It has been FREEZING ever since we arrived here in Utah. The weather has been treacherous....not the obvious dangers you'd suspect, but the hidden ones. For example, our rain gutters were frozen and backed-up causing a major downpour of water just above our front stairs. That lead to some SERIOUS ice on the steps. I think more than just the "No soliciting" sign in the window kept people away for a time. You should have seen me carrying in loads of groceries up and down these steps....scary! We've had some close calls!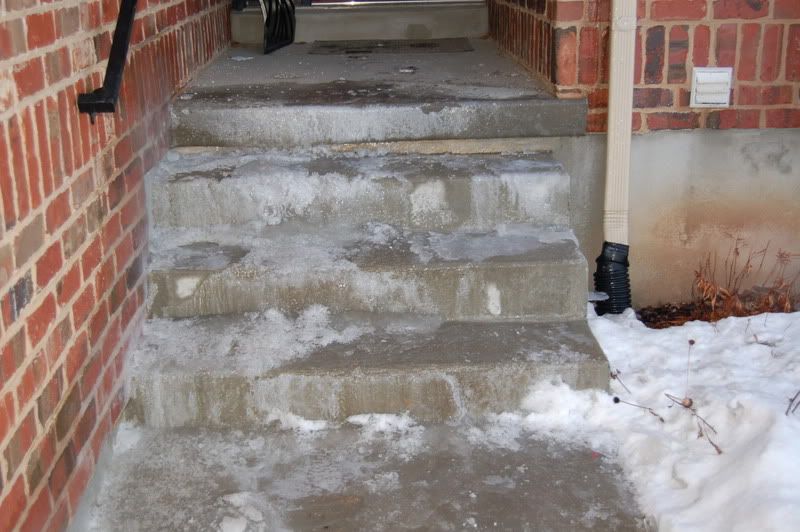 We went through a bag of salt in a week and this is still what the steps looked like. Preston finally went out there tonight and let loose with a metal shovel to break up all of the ice and even got up on a ladder with a flashlight to get the rain gutter flowing again. We also realized we weren't the first inhabitants here to have this problem....the previous owners installed a heat strip on the gutter to melt the ice....it just wasn't plugged in. But now it is and we hope to have this liability off our hands for good. We had been wondering what that mystery switch just inside the front door was....now we know!
The second hidden danger is the air quality. It has been SO gross! You wouldn't even know we live amongst the mountains because you can't see them! People have been getting sick because of the horrible smog. But then today, it snowed! Our first snow since we've been back! It cleared the air! Now we have our mountains back...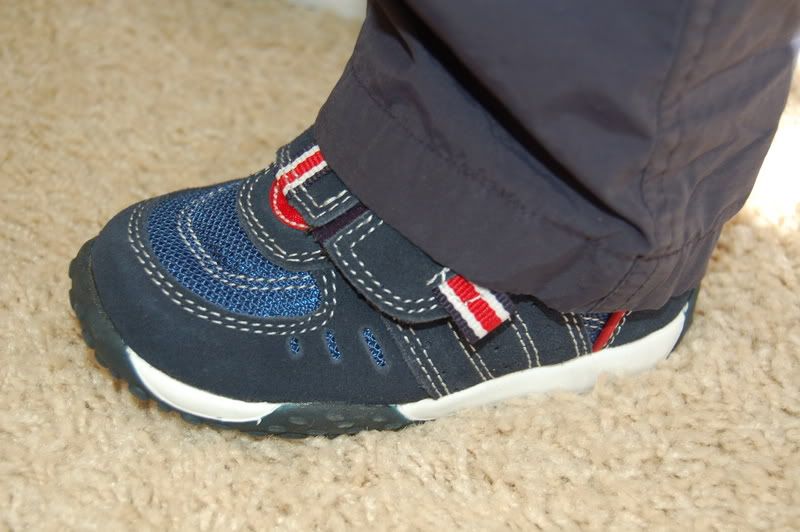 Our first snow also lead to the need for some new shoes for Henry. He's worn Robeez and pretty much just Robeez since he was born, but they don't do so well in all of this moisture. Henry has learned not to walk near the snow....he's had a few episodes of freezing, wet feet. Today when I was shoveling he would only stand in the cleared off parts of the cement....smart kid! So we ventured to Target and got him some new tennies! They may take some getting used to, but I'm sure he'll be running in the snow in no time!
They're calling for more snow tomorrow, but with our heat strip, clean air, and new tennies, I think we are ready!